In this issue, we highlight some of our many medical device customers who are leading the path towards life changing innovation in treating patients more effectively. As with each edition, we strive to bring you useful articles and examples of how HEEDS is used to discover better designs, faster. Keep reading to learn more about exciting HEEDS happenings.
Mark Your Calendars for Optimize This! 2016
<![if !vml]>
<![endif]>We are delighted to announce the Optimize This! 2016 International HEEDS User Conference will be held on October 12, 2016 at The Henry Ford in Dearborn, Michigan. This conference will bring experts and specialists together to recognize, and focus on, the wide applications of optimization technology, and specifically design exploration with HEEDS products, across all industries. Stay tuned for more information.
Stryker Enhances Patient Safety and Comfort
<![if !vml]>
<![endif]>The Medical Division of Stryker, one of the world's leading medical technology companies, is using HEEDS to design innovative new hospital beds with linkages that deliver smooth articulation with minimal actuation effort and power. Design space exploration helps Stryker engineers automatically sort through hundreds of design alternatives in minimal time to arrive at designs that yield comfort, functionality, operational ease, and cost advantages over competitors.
Terumo Drives Innovation on Heart Pumps
<![if !vml]>
<![endif]>Terumo, a Japan-based, world leading medical device manufacturer, used SHERPA, Red Cedar Technology's hybrid-adaptive design search algorithm, to drive innovation and reduce the lead time of the development of its centrifugal blood pumps. Terumo successfully discovered a number of designs that satisfies all the product requirements in a very short time. Their success story was presented at CD-adapco's Japanese STAR Conference in Yokohama in June of 2015.
Thoratec Improving Survival and Quality of Life
<![if !vml]>
<![endif]>Thoratec Corporation is using HEEDS to develop their next generation of Left Ventricular Assist System (LVAS) heart pumps to improve survival and quality of life for advanced heart failure patients. These pumps utilize state-of-the-art technology to ensure predictable and dependable operation in the complex and harsh environment of a human body. Thoratec seeks to maximize the efficiency and hemocompatibility of these critical life-saving devices while minimizing the implant size by coupling HEEDS' powerful design space exploration capabilities with ANSYS Fluent and MATLAB. As a new HEEDS customer, Thoratec was able to quickly implement HEEDS into their workflow, a critical capability for them as they accelerate the time-to-market for their products.
<![if !vml]>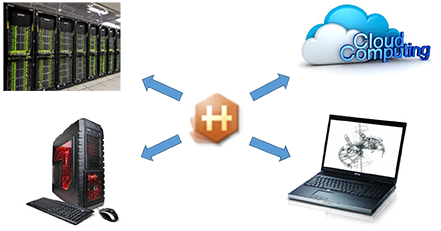 <![endif]>Easily Leverage Compute Resources
Now it is simple to define a range of internal or external compute resources available for use in design studies. These resources can be applied to any task in the design exploration workflow, thus simplifying the execution of multiple simulations across platforms and operating systems. Read more...
Combining Compute Resources for Parallelization
You can now also treat multiple computer resources as a single resource to parallelize your HEEDS study. The Compute Resources Set feature allows for tremendous flexibility in the use and management of disparate computer resources. Read more...


<![if !vml]>
<![endif]>Ron Averill is one of the founders of Red Cedar Technology and a continuing contributor to our training programs. Ron takes the time to provide some thought-provoking ideas on expanding the usage of design exploration.
Reducing the Accidental Coupling of Variables
One of the challenges to finding optimal solutions is the coupling of variables. If we could change one variable at a time, the search process would be so much easier. But in most problems the variables are strongly coupled, so the best value for one variable depends on the values of many other variables. Learn how to alleviate the situation...
STAR Indian Conference 2015
8/19-20: Bangalore, India
8/26: Chennai, India
8/27: Mumbai, India
More info

MSC 2015 Ground Vehicle & Heavy Machinery Industry Conference
9/16-17: Troy, MI
More info

Adams/Car User Meeting 2015
10/6-7: Frankfurt, Germany
More info

NAHUG Fall 2015
10/13 (tentative): Online
More info